What's the feature and application of the Architectural Spiral Mesh?
The traditional spiral mesh application is in the snack food baking industry for the conveyor belt. Based on the traditional spiral mesh, the architectural spiral mesh is made of high-quality stainless steel, brass, phosphor bronze through drawing, twisting strands, closing rope, polishing, rinsing, weaving process. It can be produced in many combinations of aperture, wire diameter, rod diameter, material grade. Now it's more and more popular in interior and exterior design for architecture and decoration. What's the feature and application of the architectural spiral mesh? In this article, Hightop® Metal Mesh will show you some information. You may have some good inspiration after reading this article.
Hightop® Metal Mesh is engaged in manufacturing architectural and decorative metal mesh. They helped many customers with their projects and has accumulated a wealth of product knowledge and production experience. Now Hightop has 10+ series and 1000+ patterns design of decorative metal mesh. After 16+ years of experience, they are fully capable of undertaking projects and delivering quality materials on time and on budget.
Hightop Mission:
Provide customers with high quality and reliable products
Provide personalized and professional services to customers
Cost savings for customers.
1. Materials of Architectural Spiral Mesh
Stainless steel:stainless steel has good corrosion resistance, heat resistance and mechanical properties in the atmosphere, and is widely used in food industry, decoration industry, etc. 304/316 are the common stainless steel grade used for architectural spiral mesh. And it can be made titanium coated surface treatment to white, black and rose gold color. After titanium coating, the color is firm and not easy to fade, enhanced metallic luster, smooth surface, very suitable for decorative purposes.
Brass: Brass is an alloy of copper and zinc. It has good wear resistance. The brass material is very popular among the designers because of its bright yellow color.
Phosphor bronze copper: Phosphor bronze copper is an alloy of phosphorus and copper, has higher corrosion resistance and wear resistance. Many designers like its bronze color.
Copper: Copper material has good ductility, high thermal conductivity and electrical conductivity. Its copper color can provide a noble feeling, under the light of gold and brilliant, elegant and refined.
Aluminum: Aluminum is a light metal among nonferrous metals, silvery-white. Aluminum has good electrical conductivity and thermal conductivity, and its chemical properties are also very lively. When exposed to air, the surface is prone to form an aluminum oxide film to protect the underlying metal from corrosion. Therefore, aluminum has strong corrosion resistance in the atmosphere. However, due to the extremely thin film, its corrosion resistance has certain limits.
2. Types of Architectural Spiral Mesh
Architectural Spiral Mesh can be produced into different types based on different wires, aperture, and weaving method.
2.1 Balanced weaving spiral mesh
an economical weave with high tensile strength. The opening rate is bigger, suitable for space divider, metal curtain, building drapery.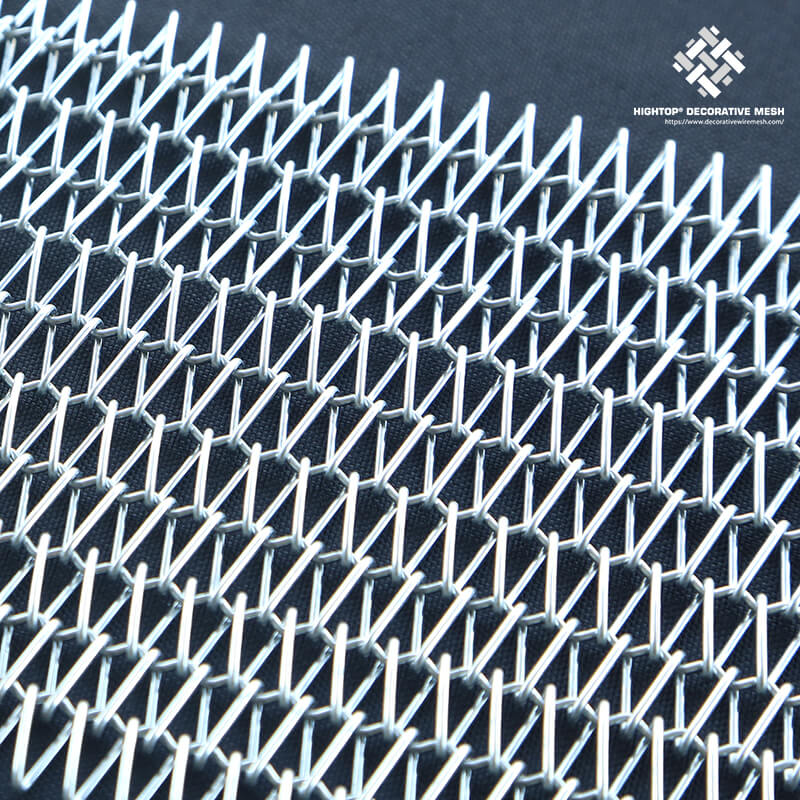 2.2 Double-balanced spiral mesh
consisting of pairs of interlaced right- and left-hand spirals

2.3 Compound balanced spiral mesh
this belt has right-and left-hand spirals fitted closely together for a smooth, dense weave. It is excellent for wall decoration in elevation, ceiling, etc.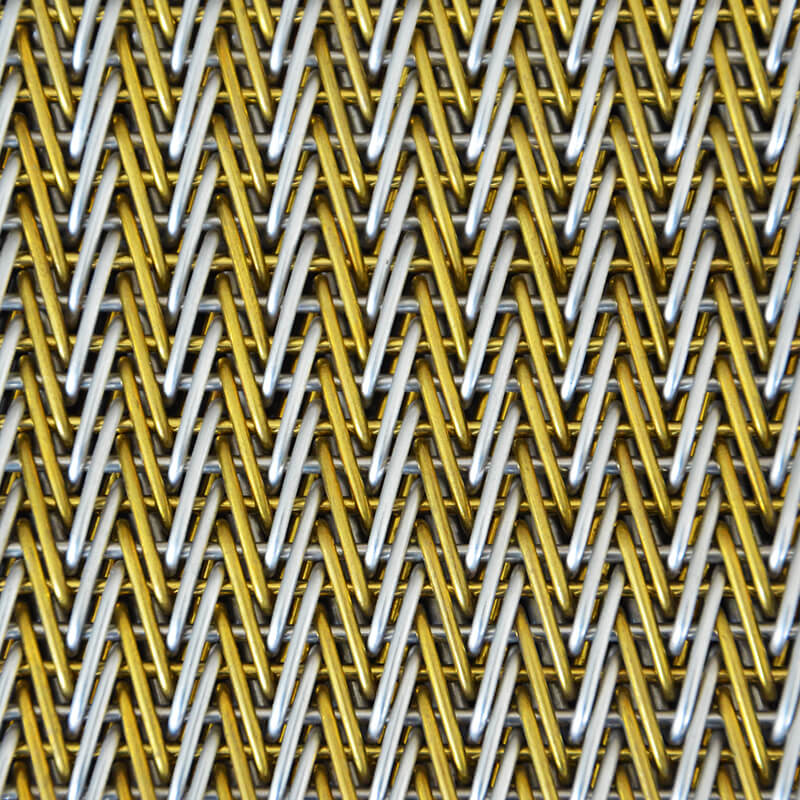 2.4 Flat wire Balanced weaving spiral mesh
except round wire, the spiral wire can be changed into the flat wire. The flat wire type is the most popular in the architecture and decoration design.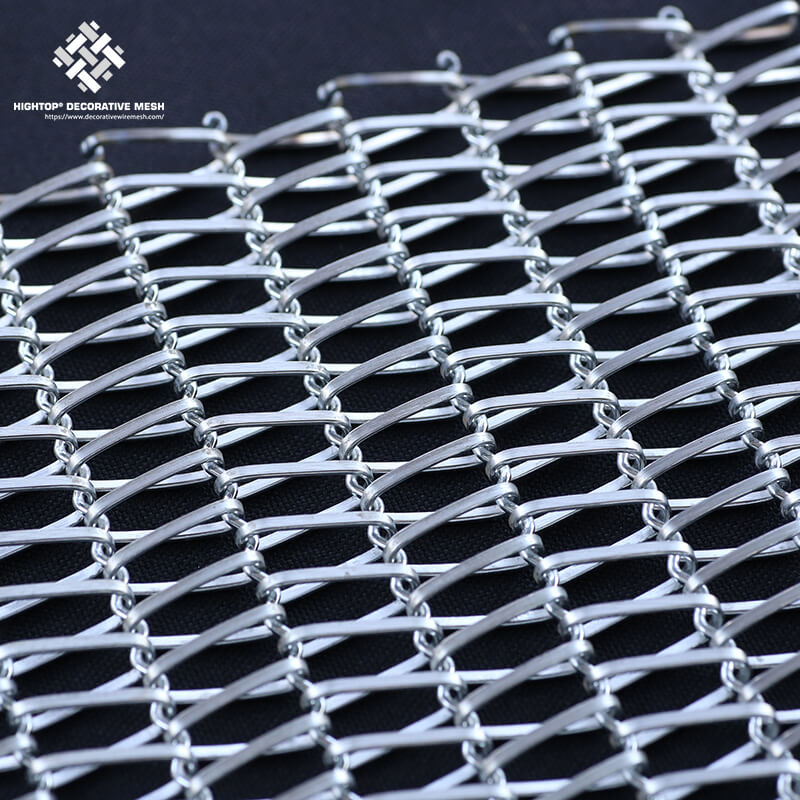 3. Specifications of Architectural Spiral Mesh
The balanced weaving spiral mesh is the most popular type in interior and exterior design.
The specification combined with spiral wire and rod wire.
Wire type
thickness
Pitch
Spiral wire
Flat wire
With: 4mm, 5mm, 6mm, 10mm, etc.
3mm,8mm,12.5mm,20mm,24.3mm, 35mm,36mm, 38mm.
Round wire
1.2mm, 2.6mm, etc
Rod wire
Straight wire
2mm, 3.5mm, etc.
13mm, 15mm, 22.5mm, 25mm, 30mm, 40mm, 60mm, 64.5mm, etc.
Pre-crimped wire
1.3mm, 2mm, 2.5mm, 2.6mm, 3mm, 3.5mm, etc.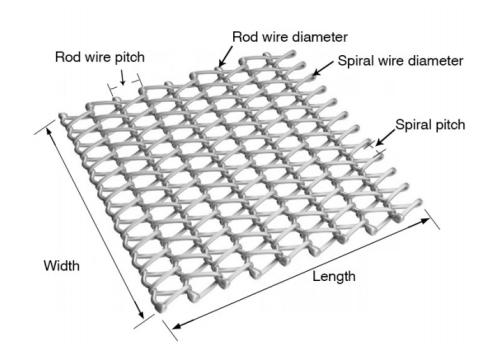 4. Features of Architectural Spiral Mesh
Corrosion resistance: It has good corrosion resistance and can extend the life of spiral decorative nets.
High strength, sturdiness, and strong functionality: Long life, not easy to deform or destroy.
Good air permeability in the gap configuration
The appearance is very chic, elegant, bright, good gloss, the decoration effect is vivid, strong and diverse, different light, different environment, different period, different observation angle, the effect is not the same, the building structure is the well-decorated effect
Easy to maintain, easy to form, and can protect the building structure well
Easy and fast installation.
Non-combustible and fireproof
Various openings and sizes for different area use
Unique design and appearance; aesthetically inspired by architecture
5. Applications of Architectural Spiral Mesh
The architectural spiral metal mesh is elegant and exquisite. It can create your wireless creativity and aesthetic art enjoyment in any imaginable space such as architectural landscape, indoor space, facade, ceiling, background decoration, partition, and so on.
The manufacturing material of the spiral mesh is relatively unique, so it can prevent the impact of storms and other adverse weather elements, making maintenance easy. When the architectural spiral mesh is applied to the exterior wall of a building, the unique firmness of its metal material can prevent adverse climate elements. Invading the room, and the architectural spiral mesh is very beautiful and light from the viewing point of view. It can be used for indoor roof and wall decoration. The architectural spiral mesh also has the characteristics of aluminum alloy decorative mesh and its unique transparency. And metallic luster gives a comfortable feeling.
The spiral mesh is a metal mesh product with wide application fields and high-cost performance. It has very high stability. So far, the spiral mesh has been dominant in home decoration. Spiral mesh has excellent waterproof, anti-fouling, and anti-corrosion performance. Moreover, the novel appearance and the convenience of construction provide strong support for the widespread use of the spiral mesh. The spiral mesh can be combined with different forms of appearance, which expands the design space and reduces the cost. It also has good strength and is an ideal choice for sound-absorbing and thermal insulation materials for walls.
The spiral metal mesh is elegant and exquisite. It can create your wireless creativity and aesthetic art enjoyment in any imaginable space such as architectural landscape, indoor space, facade, ceiling, background decoration, partition, and so on. There are some project photos:
5.1 Building Drapery
Strong wire spiral metal mesh is commonly used for building drapery. Not only enhance the security but also provide the metallic scene to make the building has a uniquely artistic atmosphere.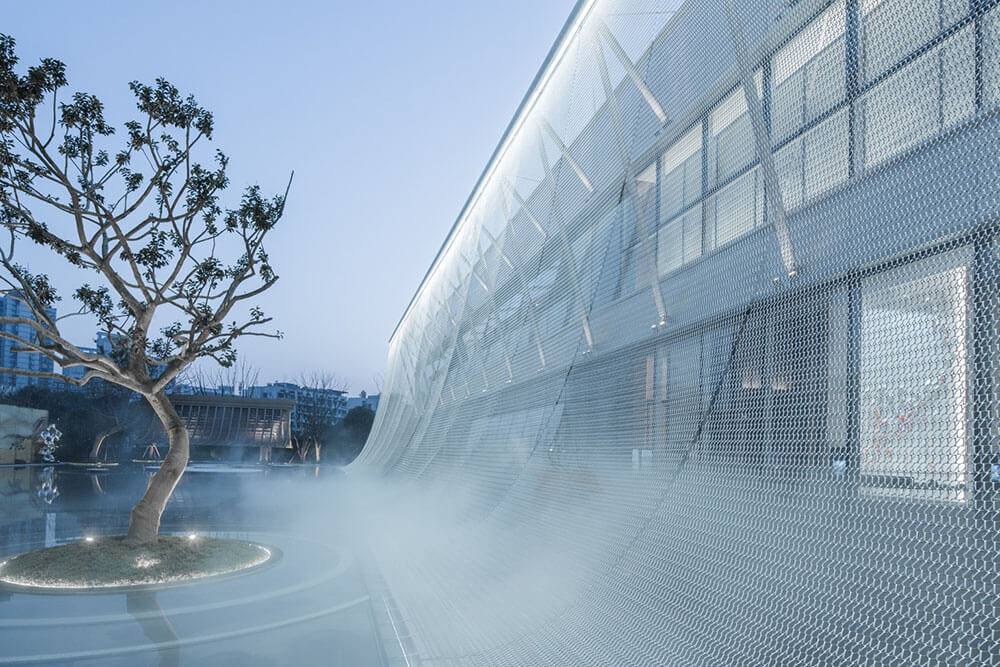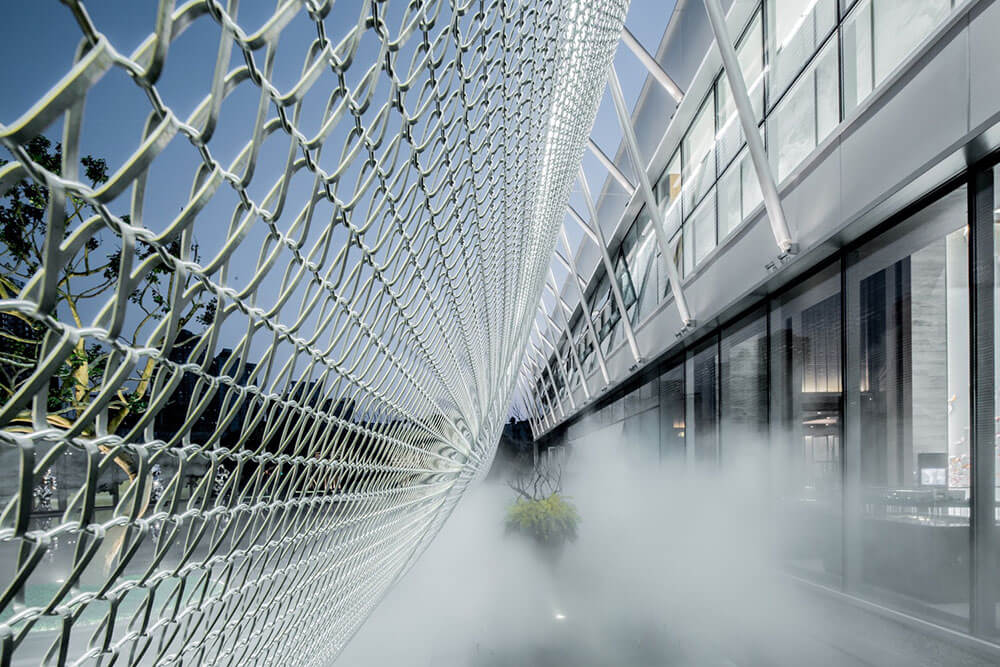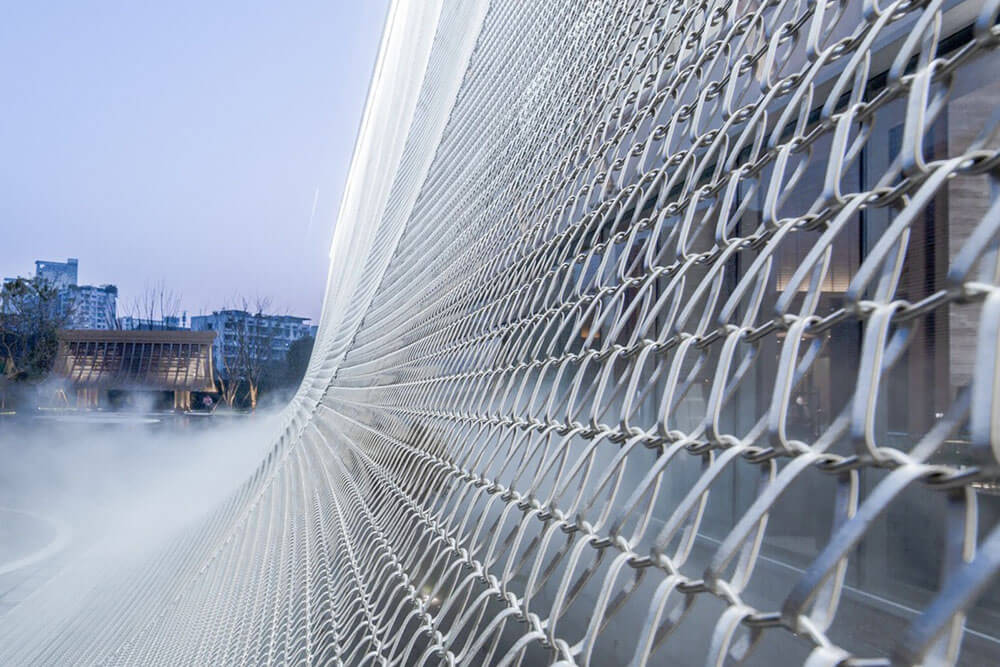 5.2 Wall decoration
Architectural spiral mesh in copper, brass and phosphor bronze materials are widely used in interior wall decoration. Such as hotel, Luxury office buildings, hotels, luxury ballrooms, art halls, museums, etc.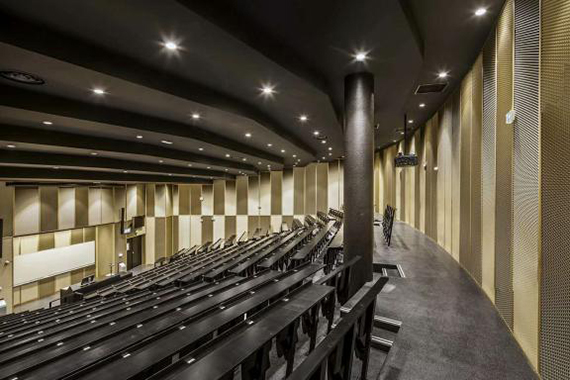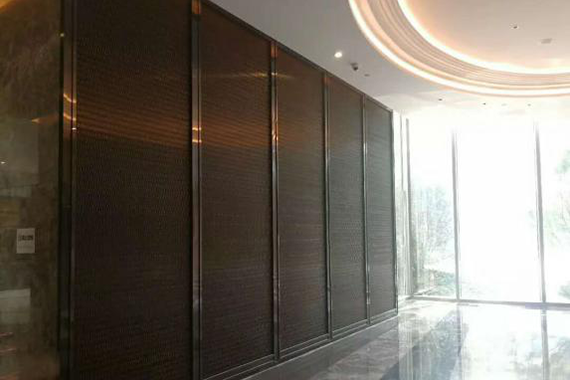 5.3 Window curtain
For window curtain, architectural spiral mesh not only can provide a good view but also can be made with a folding effect. Because of its unique decorative effect, it is popular in restaurants, hotels, shopping malls, etc.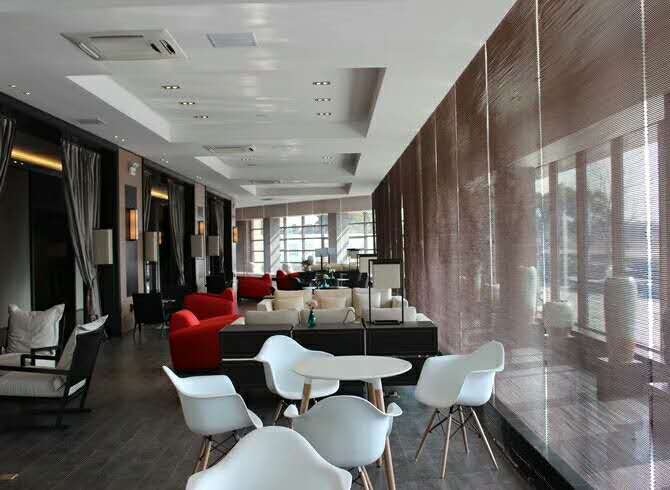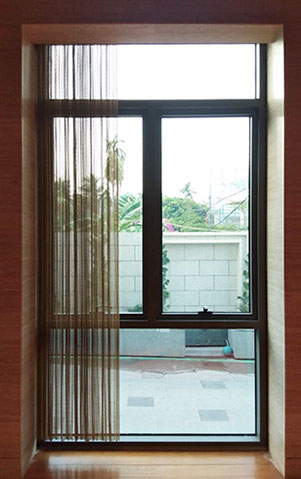 5.4 Spacing Divider
After with a frame, spiral mesh can be processed as a spacing divider. Used in home decoration, hotel, office, restaurant decoration, etc.
5.5 Ceiling decoration
Expect the window curtains, the spiral mesh curtain can also be used in ceiling decoration with the track and accessories.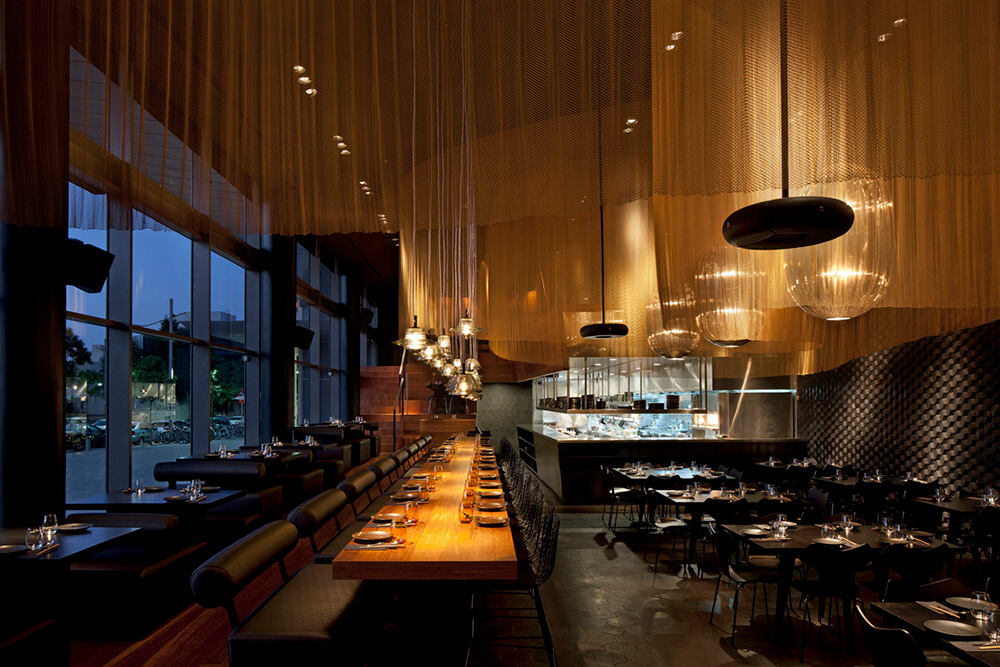 5.6 Stairs decoration
Because the architecture is strong and durable, it is commonly used for security stair protection.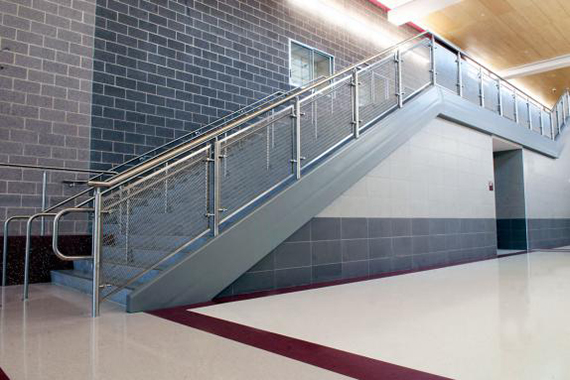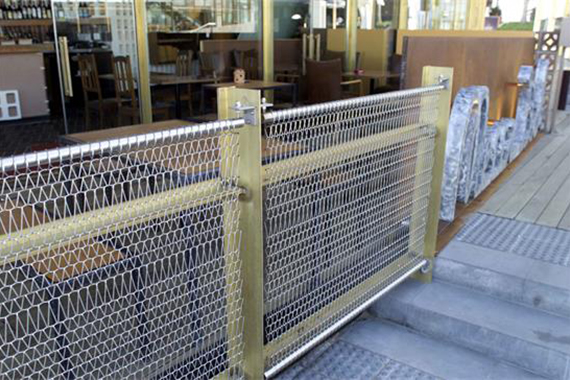 Besides, architectural spiral mesh has many other applications for interior and exterior designs.
Hightop® Metal Mesh can provide the customized service based on your drawings, bring your design to reality. Besides, Hightop can also give you some suitable suggestions based on your requirements.
For quality, Hightop strictly controls the quantity of the products during the whole production, engaged in providing perfect products, and 100% inspection before dispatch. Hope this article is helpful for you to know the architectural mesh better. If you are engaged in the project of decorative metal mesh, or you want to know more knowledge about wire mesh products, please click here to send us your inquiry.