Stainless Steel Architectural Rope Mesh Netting
Architectural rope mesh made from stainless steel 304, 316 and 316L. The angle is usually 60°. Other angel also we can made according request. The stainless steel rope mesh has a unique decorative style and more strong security. The diamond hole pattern makes the mesh strong and flexible. Different opening sizes can be customized to meet the different needs of customers. Widely used for zoo,The rope mesh are hand-made from the stainless steel wire rope, there are two types.
Type: Ferruled, Knotted
Material: stainless steel304, 316,316L
Rope wire diameter: 1.0mm to 4.0mm etc.
Rope construction: 7 x7 and 7 x 19
For measuring purposes the ferruled mesh is assumed to be stretched to create a 60°angle at the top and bottom of the diamond.
OW = Opening Width
OH = Opening Height
d = Cable Diameter
θ = 60° Angle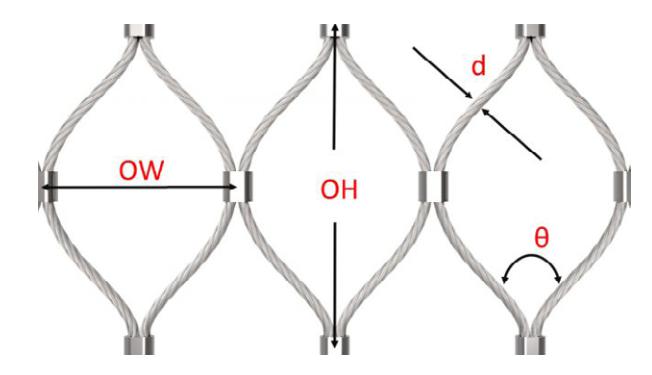 Cable diameter
Mesh opening size
Nominal break
inch
mm
inch
mm
lbs.
1/8
3.2
2×2
51×51
1600
3/32
2.4
3×3
76×76
920
3/32
2.4
2×2
51×51
920
5/64
2.0
2×2
51×51
676
5/64
2.0
1-1/2x 1-1/2
38×38
676
1/16
1.6
1-1/2x 1-1/2
38×38
480
1/16
1.6
1×1
25.4×25.4
480
3/64
1.2
1-1/2x 1-1/2
38×38
270
3/64
1.2
1×1
25.4×25.4
270
Feature of rope mesh:
Made of stainless steel 304, 316, 316L, has good corrosion resistance
Flexible and strong
High security
long lasting
Easy to install
High temperature resistance, maximum temperature 2300ºF
Application of rope mesh:
Diamond hole pattern is often used by designers in the field of decoration. It has high safety performance and is widely used in various fields, such as interior staircase decoration, building exterior wall decoration, zoo, railing, suspension bridge, anti-theft backpack protector.
Hightop has been engaged in stainless steel ropes for more than 15 years and has accumulated rich production experience. It is a professional manufacturer of R&D, production and installation of stainless steel rope nets.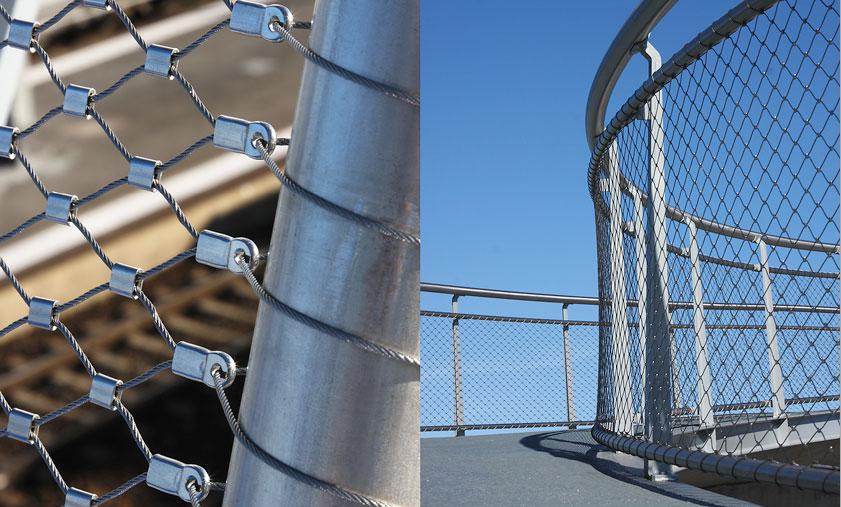 Please contact us by the contact form below, we'll get back to you ASAP.